Doctor Who: Series 11
(2018)
Jodie Whittaker, Bradley Walsh, Tosin Cole, Mandip Gill
2018 marks the arrival of Jodie Whittaker, the Thirteenth Doctor, as the famous time-travelling alien, alongside a new team of friends. Already highly anticipated, Series 11 heralds a brand-new era full of action and adventure, humour and thrills - an unmissable adventure across all of space and time.
Receiving very mixed reviews, I leave you to make your own mind up.
Available on DVD and Blu Ray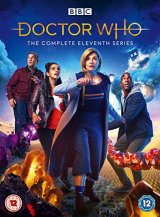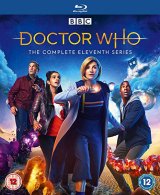 2019 News Years Day Special - 'Resolution'
Jodie Whittaker, Bradley Walsh, Tosin Cole, Mandip Gill
As the New Year begins, a terrifying evil is stirring, from across the centuries of Earth's history. As the Doctor, Ryan, Graham and Yaz return home, will they be able to overcome the threat to planet Earth?

Best of the new series but still somewhat lacking I'm afraid.